A Plethora of Painting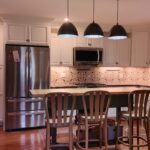 As summer is drawing to a close I'm taking a pause to reflect on some of recent projects in our local community and beyond. Last month we did a total transformation (painting ceilings, walls, and trim) of a great room in my neighborhood of Tanglewood in Pegram. As with all of our interior painting, this project received extensive prep including drywall repair, water stain treatment and caulking all the trim. We then applied two coats of my go to interior paint, Benjamin Moore Regal Select eggshell. I love working in my own neighborhood, and I'm thrilled to have worked on over 20 homes here, over the years.
One of our specialties is drywall repair, an art that falls somewhere between painting prep and drywall installation. A recent project in Franklin (see photos below) involved repairing the drywall around a support beam, reinstalling corner bead and then taping and coating in preparation of the finish paint. I was fortunate to learn the art of drywall from a master drywall carpenter back in the late 80s, at which point we were installing and finishing drywall throughout entire homes. I no longer do full drywall installation, but that experience has forever made repairing it a manageable task, and a specialized skill that has served me well over the years. Some of these techniques can also be applied to repairing plaster. Got cracks? We can make them go away!
We've also done several cabinet refinishing jobs in Green Hills, West End and a massive kitchen cabinet job in Bell Meade with over 90 doors and drawers! Preparing for paint involves several steps and is fairly intense. First we remove and label all the doors and drawer fronts which are then taken off site to be finished in my shop. Then the cabinet frames, doors and drawer fronts are all cleaned, sanded, repaired if necessary, vacuumed, and then cleaned again. The cabinet frames are hand brushed and the doors and drawer fronts get sprayed. My two favorite products for coating cabinets are Benjamin Moore INSL-X Cabinet Coat and Benjamin Moore Advance (typically in semigloss). Both of these enamels dry to a durable, rockhard finish that will last many years.
We also did several exterior painting projects including all the siding on one house, a couple of decks, a screened in porch, some iron handrails, stained front doors, and several projects involving wood rot repair. The climate of middle Tennessee is brutal on exteriors; intense heat, excessive humidity, and blazing sun all taking its toll. When you paint the exterior of your home it's not just for aesthetics, it's for protection. The paint is the final line of defense between the elements and the wood. Look for failure beginning in places like the bottoms of door jams, windowsills and eaves. It's much cheaper to maintain the house with regular paint jobs than it is to replace wood! My go to exterior paint is Benjamin Moore Aura, the only paint on the market that makes the claim of 10 year color and sheen retention. My home is proof of this, painted nine years ago and still looking grand!
Please reach out to us if there's any way we can help you maintain your home. Thanks for reading, I hope your fall is JUST DUCKY!
---
Click on images below to view larger versions: